On Wednesday night I was on Primrose Street picking up some new comic books when I noticed the following sign:
I just had to find out for the people of Haverhill – just how daring and different is Romano's?  So, we put together a set of questions and sent them off to co-owner Robert Greatorex.
1. Being next to the Comic Book Palace – are you extra busy on Wednesday when new comics come out?
Yes. We see the same people every week from the Comic Book Palace on Wednesdays.  I never knew that many people read comics.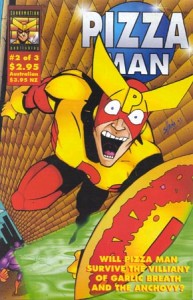 2. I've heard there's a PBJ Chicken Wing in town – any plans for a PBJ Pizza?
Funny you ask – I had PBJ pizza in Disney years ago and we have made it several times at the store, it is delicious!!!!!!
3. What do you guys mean when you say you 'dare to be different?'
We are willing to try different things: new pizzas all the time – even a chocolate pizza. We even made a sloppy joe pizza one night.
4. So, then what separates Romano's from the other pizza places in town?
Mainly the cheese we use. It is Grande cheese, which is the best mozzarella you can buy. It is pricey – but it is worth it!!!!
5. What is the state of pizza in Haverhill today?
Very competetive, lots of pizza places to choose from.  So, we must consistently make a great product to keep the customers coming in the door.
6. How late are you open on the weekends?
Friday and Saturday open until 10pm, and on Sundays we close at 8pm.
7. What's Ray Romano like in real life?
Honestly, I dont know, I bet he is a blast though.
8. What made you guys want to get into the pizza business?
I have been doing this since I was 20 – I love it. So, I decided to take a chance and open one of my own.
9. Can I get a free pizza?
YES you can , but only 1 , business is business – LOL.
10. Who would win in a fight between the Domino's Noid and Papa John?
I say the Noid takes out Papa John and makes him tapout.

11. Any chance you would name a pizza 'The Haverhill Fever?'
I've given this some though, and yes – how does buffalo chicken and jalepenos sound?
———–
And with that – Haverhill Fever and Romano's are proud to announce that you can now order a HAVERHILL FEVER pizza at Romano's! Starting tonight!
It features buffalo chicken, spicy banana peppers, red pepper flakes, tomato sauce, and mozzarella cheese. It will be sure to get your temperature to rise.
As Robert said: 'Try it if you dare!'
Give Romano's a call tonight and try out this tasty new pie – 978-373-9906.