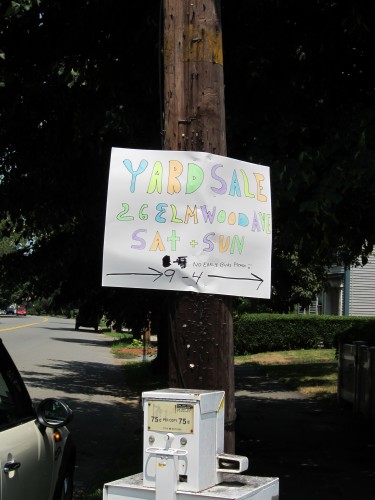 Because of the July 4th holiday and last week's biblical rain, it's been a bit quiet on the yard sale front, but Bradford is keeping the yard sale dream alive this weekend with an epic yard sale that's raging all weekend long.
26 ELMWOOD AVE Saturday and Sunday 9:00am – 4:00pm: Huge 3 family yard sale with many items, including great push mower for the small yard, clothes,  household items, stemware, and kids toys.
I also noticed a sign on Salem St. pointing to a yard sale at 46 Harding Ave. but there were no posted hours and the street looked pretty quiet. So, while I can't officially endorse that one, if you're checking out Elmwood this weekend, it might be worth a swing by just in case!
Know of any sales we're missing out on? If you have a hot tip on a cool yard sale, email us and we'll be sure to update this post.