Being of the mopey indie rock persuasion, I managed to inhabit Haverhill for nearly four years without realizing there was a pretty active (and kickass) loud/metal/hardcore scene happening right under my nose. Places like Welfare Records and its offshoot venue Anchors Up! are bringing the "Rrarrrarrrhhhhhhrrrrrrrrr" to the Merrimack Valley on a regular basis.
My friends Living Syndication recently played a gig with Haverhill natives Age of End,  which got me hooked up with guitarist Mark McKellar. Mark took a few minutes out of his busy schedule of intimidating people on the streets to chat with me about the band, the stigma attached to being a groupie, and why you should clear you schedule on July 31st and get ready to hop on a party bus.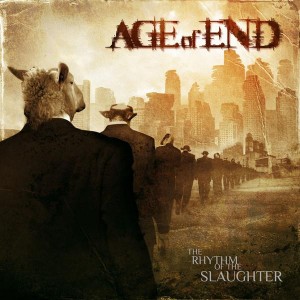 HF: Hey Mark, thanks for taking some time out. Now, your latest album is called "The Rhythm of The Slaughter." You're not going to hurt me, right?
AOE: I might, but only in that John Mellencamp, "hurt so good" kinda way.
HF: Rawr, okay! I went to your MySpace page to check out a few songs, and it's dark, moody, with you guys all shrouded in mystery. Tell me, who are these men lurking in the shadows?
AOE: The band is:
Chad Hickman – Vocals
Mark McKellar – Guitar
Steve Madigan – Bass
Alex Wagner – Drums
All of us, except for Chad are from Haverhill and have been in a lot of Haverhill bands. (Delusions of Grandeur, Only Ash Remains, Dibiase, 30 for 60, High Society, etc.) Chad used to be the singer in a band that played in Haverhill a lot as well, Pendulum Theory. We have a lot of friends, family, fans, and supporters from Haverhill, and try to play there whenever possible! We're proud to rep HELLTOWN!
HF: How would you describe your sound to the uninitiated?
AOE: LOUDCORE! We get this question a lot, and I never really know how to answer it. We play music that is aggressive and eclectic. We try to mix brutality with beauty, all while trying to keep it rhythmically original and interesting. There are definitely parts to our songs that will get stuck in your head, and there are also parts that will make you lose your shit! I once heard someone describe us as "Tool, having sex with the deftones, while Mudvayne watched, and Taproot played the acoustic guitar." I think that sums it up just fine!
HF: So, on my way to this interview, I stepped in a Puddle of Mudd. How can I get this stain out?
AOE: So, you got "Staind" from a "Puddle of Mudd?" That really is too bad! Best bet is to douce the whole area with "Bleach" and start again!
HF: Chris and I are starting a band. Which band name is best: Cheeseburger Scene, Dread Pirate Roberts, or Coin Heaven?
AOE: Personally, I'd go with "Morgan Freeman's Liver Spots," but that's just me.
HF: Who would win in a fight- Rob Zombie or his kid brother from Powerman 5000?
AOE: I don't know, Spider is a crazy mofo, and Rob is old. But, being an older brother myself, I gotta go with Rob on that one.

HF: Does your amp go to 10 or 11? Or higher?

AOE: Unfortunately, only 10. I did get in touch with Marshall recently, and sent them a picture of the tattoo on my arm (which is the nobs from my amp, all cranked to 11) and asked them to make me a custom head that does the same. I'll keep you updated!
HF: Do you guys get a lot of groupies? How would you describe the average Age of End fan?

AOE: "Groupies" is such a negative term. We prefer "fun females." It's funny, because it's kind of hard to pinpoint the "average" Age of End fan. We've had so many different kinds of people come talk to us after shows and tell us that they're into what we're doing. We actually once had a little girl, maybe 10 years old, who brought us a picture that she drew of us on stage. it was adorable! I'd say the one thing they all have in common though is that they're all into great music!
HF: I hear you guys are playing at WCYY's Oxxfest in Maine on July 31st. That's pretty awesome. How are you going to get your fans up there?
AOE: We're really excited about it! We played the festival last year, with Papa Roach and it was an amazing time! This year, with Shinedown, Sevendust, Chevelle, Puddle of Mudd, and 10 Years, it should be INSANE! Just like last year, we'll be throwing a bus party to get people from this area up to the raceway in Oxford. We rented a couple party busses, and are selling tickets for them. We like to be able to offer a safe ride, so that people can come and party with us, and not have to worry about any negative consequences. And the bus parties are always WILD! If anyone is interested in coming, you can get in touch with us on MySpace, Facebook, or at ageofendband@gmail.com.
HF: What's on the horizon for the band? Now that Maine's conquered, where are you off to next?
We try to keep ourselves as busy as possible. We've already started writing songs for our follow up album, and are going to start pre-production soon. We've also been getting a lot of requests from club owners and promoters down in NC, SC, FLA, and some other areas down south. We've been getting some good airplay down there, and it seems to be building some momentum, so we're working on making it down there soon!
—
Pretty awesome idea, guys! Party bus to WCYY's Oxxfest: July 31. RSVP on Facebook and get more info on purchasing tickets. If you want to hear a few tracks off of The Rhythm of Slaughter, check out Age of End on MySpace and Facebook.