Have you RSVPd to Haverhill's Biggest Bar Crawl on June 11th yet? It's promising to be a pretty epic event, with a crowd of 105 (and growing every day) traveling to 7 different bars around downtown Haverhill. This is happening all within 3 1/2 hours, and with all proceeds of the $10 cover going to the Haverhill High Althetic Department.
There will be free food, a performance by Merrimack Delta Dub Set, and even…drumroll please…the unveiling of THE FEVER CUP, the first Haverhill Fever inspired cocktail.
I know, right!?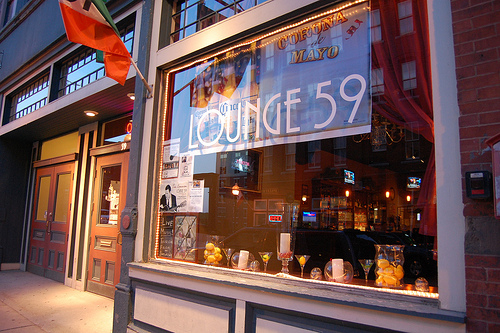 The evil geniuses behind this concoction are (of course) Haverhill Fever's own Chris and his love for Pimm's, and Patrick McCarthy, owner of Lounge 59 at 59 Washington St. downtown Haverhill. I recently caught up with Patrick at the bar and he gave me a run down of their awesome in-house infused liquor selection. Check out this video, shot by Andrew Firg:
As we were packing up I asked Patrick who would win in a fight and before I even got to name the combatants he boomed "ME!" I don't doubt it! I also hear Lounge 59 has some pretty incredible homemade desserts, including tiramisu and boston creme pie. Anyone tried them yet?
Be sure to come by Lounge 59 for a Fever Cup during Haverhill's Biggest Bar Crawl and say hi to me and Chris! We'll be there with Haverhill Fever bumper stickers for all, and we'll be giving away some much-coveted Haverhill Fever t-shirts.
(And hey, what do you think of the video? I know the upload's a bit wonky, but if you like the content, let us know and we'll make some more!)