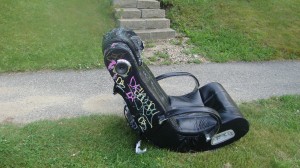 I really struggled with what my 1st topic should be. I filled my notebooks with ideas, and yet they all seemed so lackluster. As if someone heard my prayers, I came home to a wonderful gift.
Across from my house In the middle of my street sat this magnificent beauty propped up against a rock. How did it end up here, I wonder? I must have done something really wonderful to have been bestowed such a priceless heirloom.
Though I feel blessed, I can't stop thinking about the misfortunate darling who lost this rare gem; and what an artist! I could be wrong, but I think this same talent has so nicely left similar works of art on all the signs in my neighborhood. What a giver!
As much as I would love to display this masterpiece in my foyer, my family and I are not up to date on our tetanus and rabies shots. I will hate to see it go, but sharing is caring.
If you would like to own this luxury item or know the poor gamer who must be longing for it, it will be in the middle of Main Street Haverhill propped up on a rock at dusk tonight.
Just remember: the early bird gets the worm!